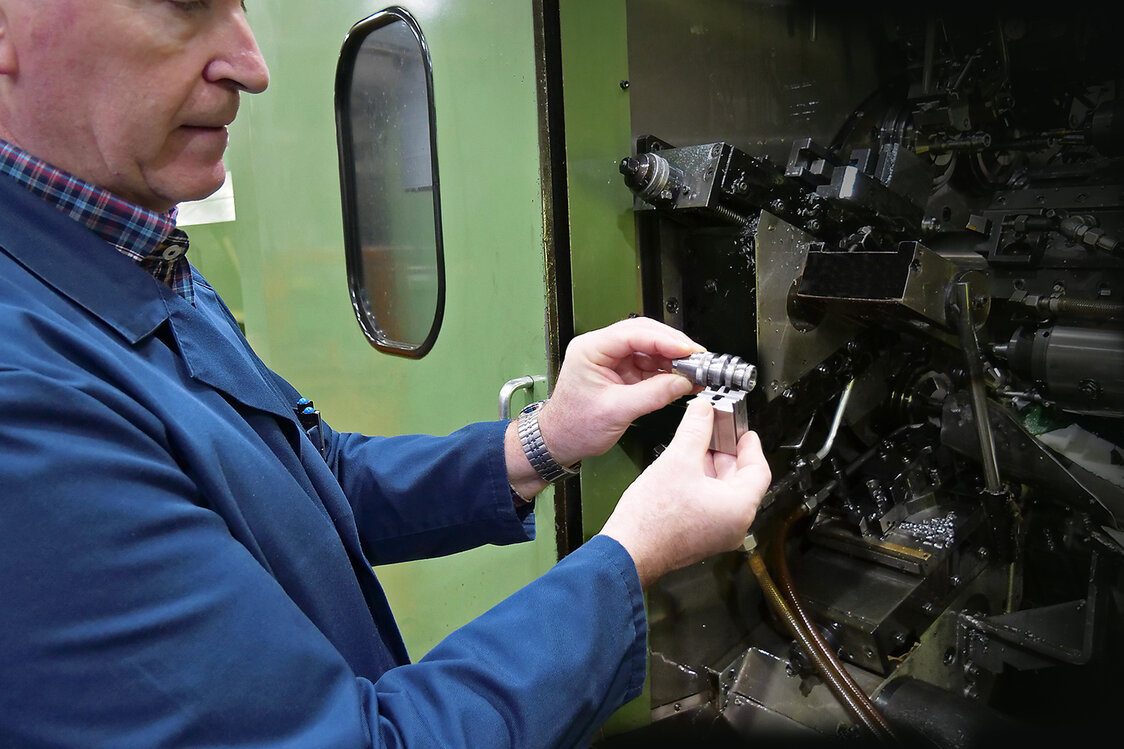 "With the introduction of the RoHS Directive* a few years ago, the processing of lead-free machining steel was the focus of our attention", explains Markus Nusser, Production Manager of the drill chuck division at Röhm GmbH. This EU standard was intended to restrict the use of certain hazardous materials in electrical and electronic equipment. For the German manufacturer of clamping devices it was therefore necessary to be prepared for the legal changes - even though Röhm as a "small electrical manufacturer" is not yet bound by them.
"At that time we worked exclusively with high speed steel tool", explains Nusser. "The positive properties of carbide were well known to us, but we did not think it possible for tools to exist on the market that could cope with such extreme conditions."
A reliable partner
Röhm brought Leistritz on board as a partner for a development project. "In 2017, we began the first test runs: In our automatic production line for drill chucks, which produces several million parts per year, we used form plates from Leistritz in eight- and six-spindle bar machines," explains Peter Östreicher from work preparation department at Röhm. "We were thrilled with the results - especially considering how difficult it is to machine this material."
It all started as a test run. Meanwhile we are producing on several automatic machines with Leistritz flat form tools.
(Markus Nusser, Head of Drill Chuck Production, Röhm GmbH)
Not only was the carbide profile tool in use three times longer than the less expensive HSS tool, but also the downtimes were considerably reduced resulting in a significant reduction of ancillary production costs. "The carbide tool seems more cost-intensive at first, but it pays off. The advantages are impressive."
Top results due to optimization
"We took up this challenge several years ago. We have worked on various projects to find solutions for materials and coatings. The results of these findings have also been incorporated into the tests at Röhm", says Norbert Kanski, Regional Sales Manager at Leistritz.
"Of course, there were also some hurdles that had to be overcome. For example, it was not so easy to transfer production from a large, powerful machine to a small, significantly weaker and less stable machine.
Design adjustments had to be made here: In order to achieve low wear and at the same time improve service life, the cutting geometries had to be adapted to the respective conditions. For each new component, this entailed a partly new development process. "Thanks to the great dedication of the highly motivated team of machine adjusters, who reliably documented the production results, we were able to press ahead with our optimisation work quickly".
We have already taken up the challenge of "processing lead-free material" several years ago and have developed approaches for materials and coatings.
(Norbert Kanski, Regional Sales Manager, Leistritz Produktionstechnik GmbH)
Also suitable for use with leaded steel
"The EU standard was the real reason for us to test carbide tools. Because we had such positive experiences with the carbide form plates, we decided to use them in the current production with leaded steel," says Nusser. Especially in operations with high chip removal rates, the company was able to reduce production time by 10%, thus significantly increasing output and reducing unit costs. The tool life has also improved significantly - even with reground carbide form plates.
"Without the competent advice and support of the Leistritz team we would not have achieved these results", says Nusser. "Throughout the entire project phase we were accompanied by the tool development department with great expertise and enthusiasm".
*The EU Directive 2011/65/EU serves to restrict the use of certain hazardous substances in electrical and electronic equipment. It regulates the use and distribution of hazardous substances in electrical appliances and electronic components. Directive 2011/65/EU (RoHS 2) replaced its predecessor Directive 2002/95/EC (RoHS 1) on 3 January 2013. Both directives are unofficially abbreviated as RoHS (Restriction of Hazardous Substances).Translated with www.DeepL.com/Translator (free version)